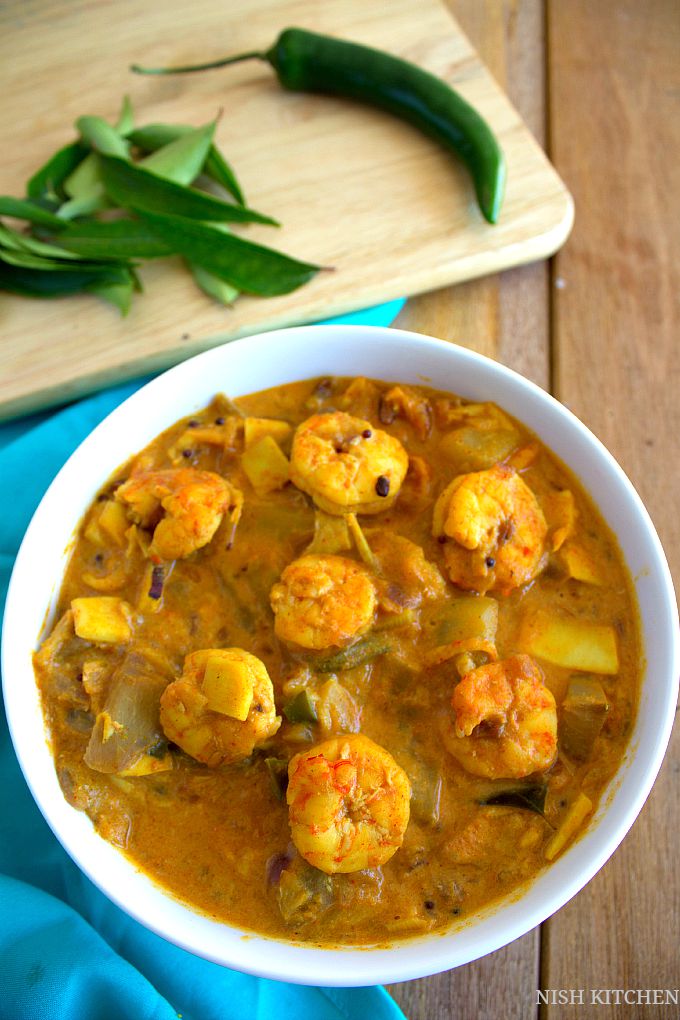 Prawn mango curry (chemmeen manga curry), a traditional dish from Kerala, has prawns and raw mangoes cooked in creamy coconut sauce. The raw mangoes impart a light tangy flavor to the dish which is absolutely amazing.
This is one dish that's reserved for the season of mangoes, summer. As summer is slowly approaching where I live, mangoes have also started to appear everywhere. Seriously, who doesn't love mangoes? When in season, I really love making curries, smoothies and pickles with them.
This prawn mango curry is one of the classic recipes from Kerala. As you know, most of the traditional curries are well known for their complexity. But this tasty curry is made in less than 20 minutes and all in one pan.
I started with the good old way of making a good Kerala style curry – heating oil and spluttering mustard seeds. You'll also need to add fenugreek seeds which add great flavor to the chemmeen manga curry.
Now add onions and fry until they are browned. Next up, fry ginger, garlic, green chilies, and curry leaves. Add fresh coconut slices and fry for a minute or two. I absolutely love the "crunch" it adds to the dish. Although coconut slices are optional in this prawn mango curry, I recommend adding them as they make a world of difference in terms of flavor.
When the coconut slices are lightly browned, fry ground turmeric, ground coriander and red chili powder.
The important ingredient that makes this curry absolutely delicious is mangoes. It makes the curry tangy and irresistible. Add the mangoes to the sauce along with prawns and enough salt. Pour thin coconut milk. Use store bought coconut milk if you like a quick version.
Cover the pan with lid. Cook for 6-7 minutes or until the prawns are cooked through. Avoid overcooking the prawns at any cost, as they'll turn rubbery and chewy. Just before removing it from flame, stir in thick coconut milk (or use store bought coconut cream) and heat through. Garnish with more curry leaves, if you like.
Enjoy this prawn mango curry (chemmeen manga curry) with rice or roti. I bet this will be one of the best prawn curries you'll ever taste!
Like this prawn mango curry recipe? Then why not try these prawn recipes: