Crispy cauliflower wings. Crispy and flavorful cauliflower bites tossed in buffalo sauce. Served with a creamy dreamy dip, these vegetarian wings always turn into a delicious appetizer.

Have you ever tried the vegetarian version of buffalo wings made with cauliflower? In fact, these are an upgrade of the classic wings that are apt to be the center piece of your entertainment hub. Let's talk about these delicious cauliflower bites, keeping the buzz word 'healthy' top of mind.

The key ingredient of these crispy cauliflower wings is, obviously, cauliflower. You'll need a large head of cauliflower broken into small florets. Next up, you'll need to whip up the batter. But before you do that, preheat your oven and line a large baking tray with baking paper.

To make the batter, mix together flour, garlic powder and paprika. Season with salt and pepper. While the garlic powder imparts a lovely flavor to the batter, paprika gives it a beautiful color. Now stir in milk to create thick and smooth batter. Ideally, the batter needs to be thick enough to coat the back of a spoon. Again, if you're after a vegan version of these crispy cauliflower wings, make sure you use your favorite plant based milk in the batter.

When the batter is ready, toss florets in the batter and arrange them in the baking tray. In order to facilitate even cooking, make sure you place them in a single layer. Now, this tray goes into the oven.

While the wings are cooking, make the buffalo sauce. It's a simple combo of hot sauce, oil and honey. Dip the baked florets in the sauce and bake again until crisp and tender.

Serve these crispy cauliflower wings with your favorite dip. Yum!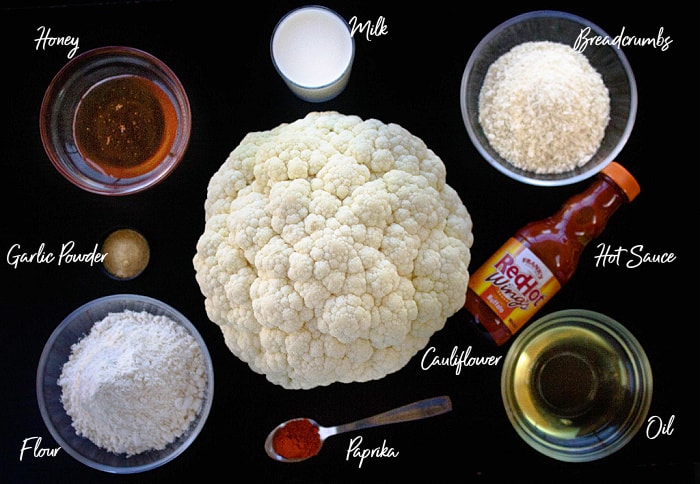 More Cauliflower Recipes:
Like these crispy cauliflower wings? Then join Nish Kitchen on Facebook, Pinterest and Instagram. Watch exclusive recipe videos on YouTube.