Tortilla sausage rolls. The easiest sausage rolls you'll ever make! These rolls feature delicious meat filling encased in crispy, golden tortillas. Not only are they easy to make, but they are packed with veggies, too. You won't be able to get enough of these!
When it comes to creating perfectly delicious meals, I tend to gravitate towards healthy alternatives. The fact is adding healthy ingredients to your meals can be easy as well as delicious. Here's a simple trick to convert your favorite sausage roll into its super healthy alternative without compromising on deliciousness.
Tortilla Sausage Rolls. It's all about substituting puff pastry with tortillas. Obviously, an easier and healthier addition. When baked, you'll get a delicious filling with a crispy tortilla shell. Beyond delicious!
Tortilla Sausage Rolls Recipe
First, the tortilla. Use your favorite. Flour, corn, wholemeal, gluten free – all work well in this recipe. Again, you can opt for regular tortillas or large burrito style tortillas.
Next, the meat filling. Go with your favorite meat, chicken or veggie filling. I've used my go-to filling recipe featuring a delicious combination of minced (ground) meat, onion, garlic, paprika, basil and a little cayenne pepper. Combine all the ingredients together to create the best filling.
Finally, roll and bake. Don't forget to brush with a little egg wash for that shiny golden touch. So good!
More Sausage Roll Recipes: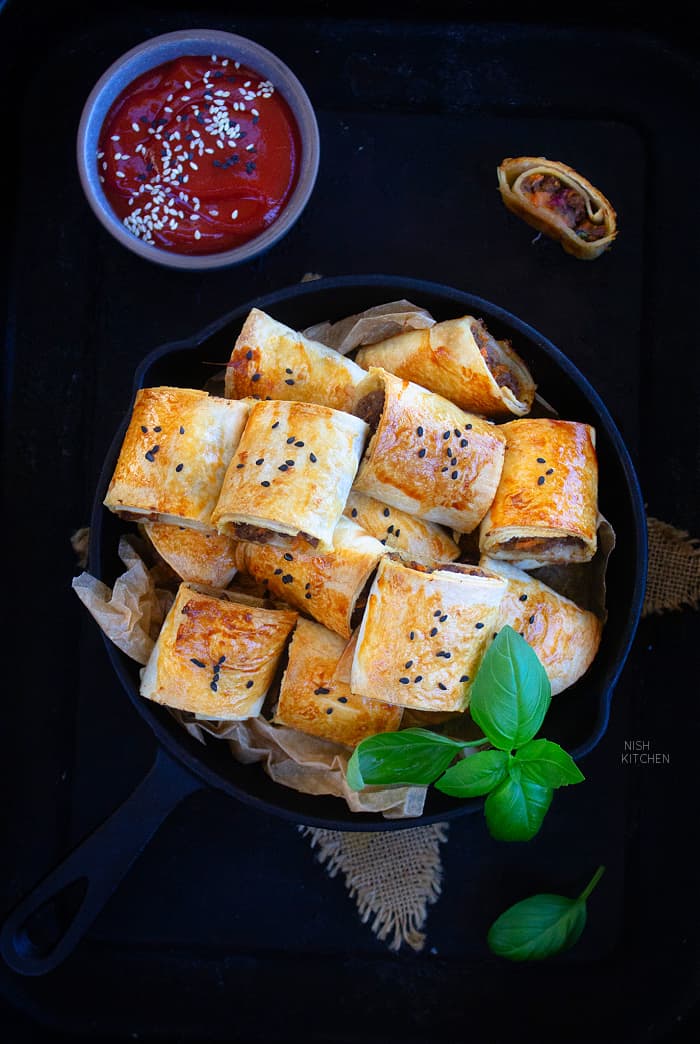 Like this tortilla sausage rolls recipe? Then join Nish Kitchen on Facebook, Pinterest and Instagram. Watch exclusive recipe videos on YouTube.