Semiya payasam or vermicelli pudding – Simple ingredients – vermicelli, milk and sugar- turned into mouthwatering and divine dessert. The ground cardamom clearly gives this pudding an incredible kick of flavor and taste. Your friends and family will go nuts for it!
Do you like vermicelli? I love vermicelli in both sweet and savory dishes. If you are not familiar with vermicelli, these look like sphagetti and are made from either wheat or rice. Dishes made with vermicelli are very popular in Indian cuisine.
If you've never tried vermicelli in a dessert before, you must make this semiya payasam or vermicelli pudding. The combination of vermicelli, milk and ground cardamom is simply amazing. The sweet part of this dessert comes from sugar, and you can add more or less depending on your liking. A bit of sugar is not a bad idea, right? In short, I think this pudding is super delicious.
For this recipe, I bought vermicelli from my local Indian grocery store. Vermicelli comes in three different forms. One, as long strands like sphagetti, which you'll need to break into smaller pieces prior to cooking. Second, broken vermicelli with much shorter strands which goes straight into the pan for roasting. No prepping needed. Third, vermicelli that has already been toasted for your convenience. Look at all these different varieties of vermicelli! Now, which one would you choose?
Ok, I know this sounds totally confusing. So I'll tell you all about what I did and what you need to do. Honestly, I chose the second option. I mean, vermicelli with short strands. I think the toasted version is really convenient but toasting the vermicelli in ghee gives it a whole depth of flavor. Even if you are using toasted vermicelli, I recommend you give it a light toast in ghee for maximum flavor.
Alright, now let's talk about the other ingredients in this semiya payasam (vermicelli pudding). It's no secret that all ingredients in this payasam play a huge part in making this dessert sweet and divine.
The recipe starts with frying raisins and cashew nuts in oil. These two elements of the dish are used for garnishing and are totally optional.
Next, vermicelli is toasted in ghee until it gets a light brown color. Then pour in milk, and simmer to cook the vermicelli. Don't forget to add sugar for the right amount of sweetness. The addition of cardamom towards the end of cooking really uplifts the flavor in this semiya payasam.
Remember, as the payasam cools down, it will become more thick. If it gets too thick, add some milk and boil. The best part of this pudding is that it can be served either hot or chilled depending on your liking.
Seriously, can you think of a better way to treat your taste buds?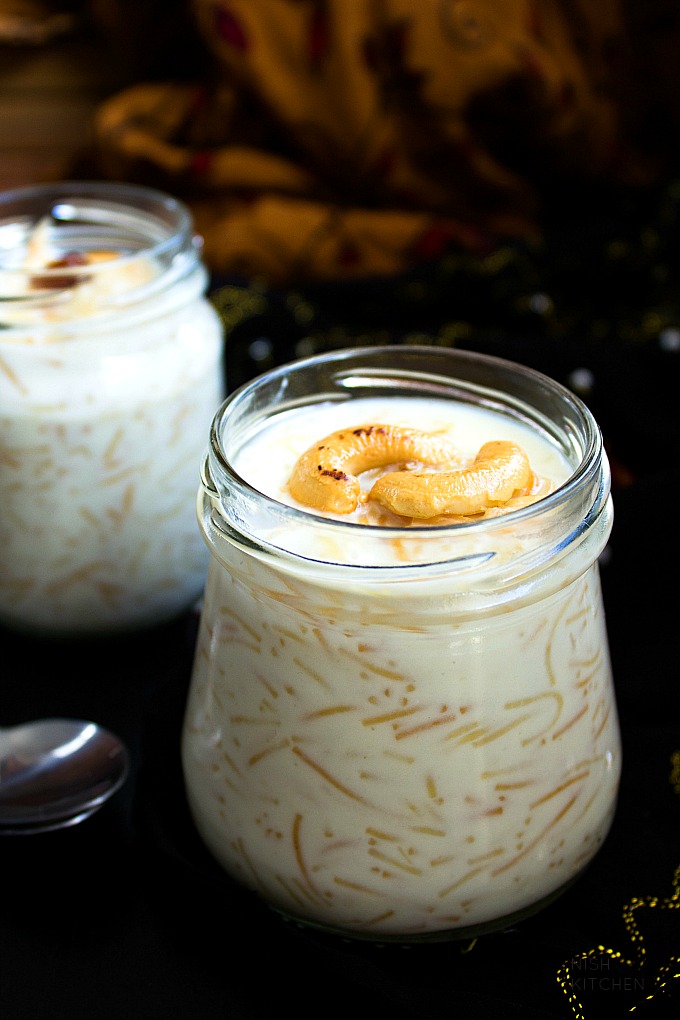 More Payasam Recipes

Like this semiya payasam (vermicelli pudding) recipe? Then join Nish Kitchen on Facebook, Pinterest, Instagram or YouTube. Also, check out: