Chicken chow mein noodles – Make your dinner irresistible with this easy Asian-inspired meal! It's quick and delicious, and most of all, the perfect choice for a nutritious midweek meal. Customize with your favorite protein and veggies to create a meal that your family will love!
Without a doubt, quick and easy meals are godsend when you're caught up with the crazy pace of life. I love cooking up a storm in the kitchen everyday, but as a busy mom, it just turns into an impossible task. So, in my home, quick and delicious is the way to go.
Then how do you create quick dinner that doesn't compromise on the nutritional value? Well, let me assure you, it's easier than you think.
Here's an easy-peasy, super delicious and nutritious chicken chow mein noodles recipe just for you. A classic Chinese style stir-fried noodles that's totally customizable with your favorite protein and veggies.
Noodles (and of course pasta) in any form is the go-to dinner in my family. Although there are tons of variations of delicious noodles, I bet this chow mein noodles is going to steal your heart. With noodles, chicken, and vegetables soaked in lip-smacking Chinese sauces, how could this not turn into your family favorite. The best part – it's super healthy with lean protein and plenty of veggies.
The very first mouthful of this chicken chow mein noodles got me super excited, and I just decided to share it with you right away. This noodles is a winner.
Ok, now to the recipe.
If you have a few Chinese sauces in your pantry, it's going to be so easy to make this chicken chow mein noodles at home. Or, should I say, 'better than takeout' noodles.
First, marinate your favorite protein (chicken in this case) in a little soy sauce and a splash of rice vinegar. Rice vinegar is commonly used in Asian cuisine, and it gives a very mild tangy flavor to the entire dish. Then stir fry chicken pieces over high heat until they are cooked through. If you are not a fan of chicken, beef or prawns will be equally delicious, too. Or turn into a vegetarian delight with paneer or Indian cottage cheese.
Once your chicken is done, stir fry the veggies until they are wilted. I love to cook my veggies in the stir fry sauce made with soy sauce, kecap manis and oyster sauce. Kecap manis adds a lovely dark brown color to the noodles.
Finally, the chicken and noodles goes into the pan to soak up all the flavors.
I think this chicken chow mein noodles is the most addicting noodles ever. Moreover, the entire dish is made in one pan which means less washing up. Obviously, the perfect way to cook dinner for your loved ones.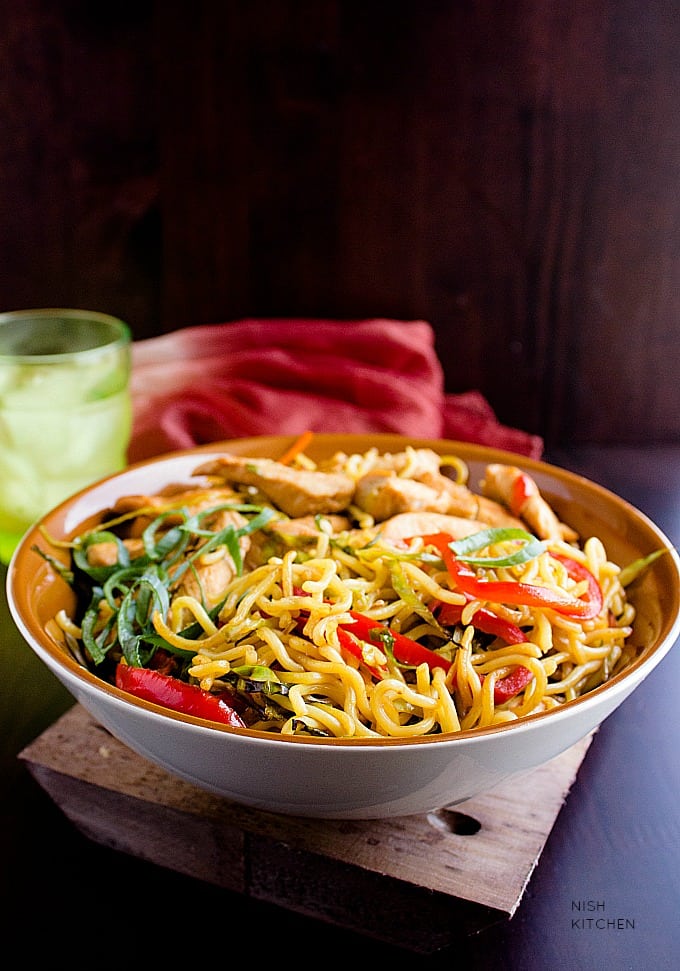 More Noodles recipes:

Like this easy chicken chow mein noodles recipe? Then join Nish Kitchen on Facebook, Pinterest, Instagram or YouTube.