Chutney swirl bread. Take your humble white bread up a notch with stunning swirl effect. The green chutney brings an added depth of flavor and color to this beautiful bread. Create your own customized version with your favorite filling. You won't believe how simple and easy this unique bread is!
The joy of baking bread at home is out-of-this-world. Without a doubt, the aroma of fresh bread is mesmerizing. And when combined with flavorful green chutney, the humble homemade bread is taken up a notch both in terms of flavor and taste.
The swirl effect is all about adding a layer of extra deliciousness to your humble bread. It's essentially a black canvas on which you can add your favorite flavor. Considering kitchen as one of the most popular rooms in every home where all your favorite dishes are created, it's a great idea to bring in the whole family to whip up this super easy to make swirl bread.
How to make swirl bread
As I mentioned, it's super easy. Start with mixing up the dry ingredients – flour, yeast, a little sugar and salt. Although I prefer bread flour for bread making projects, regular all-purpose or plain flour works perfectly well in this recipe. When it comes to the type of yeast you'll need in this recipe, instant or active dried yeast is the way to go.
Now, it's time to add in the wet ingredients- melted butter and water. Make sure you use melted and not softened butter in this recipe. The water needs to be lukewarm, just the right temperature to activate the dried yeast. Remember no hot or boiling water as it will kill the yeast.
Once you add butter and water, stir with a wooden spoon to create a sticky dough. At this stage, you'll need to cover the bowl and place it in a warm spot for about an hour. Now that's the first step of making this swirl bread.
One hour later, the dough will be double in size but still sticky. Now, tip this onto a floured surface and start kneading. As you knead, sprinkle over more flour to transform sticky dough to perfectly soft and smooth dough. Roll this into a rectangle. Spread with the flavorful chutney and roll. Make sure you roll the dough tightly and evenly.
This goes into a buttered loaf tin for the second proofing. I like to brush the dough with a little egg white before it goes into the oven. Just because I love that beautiful brown top.
Customize swirl bread
Clearly, there are umpteen ways to add filling to this bread. Apart from coriander chutney, you can also add:
Tomato chutney
Cinnamon sugar
Nutella or any chocolate spread
Matcha
What's your favorite flavor?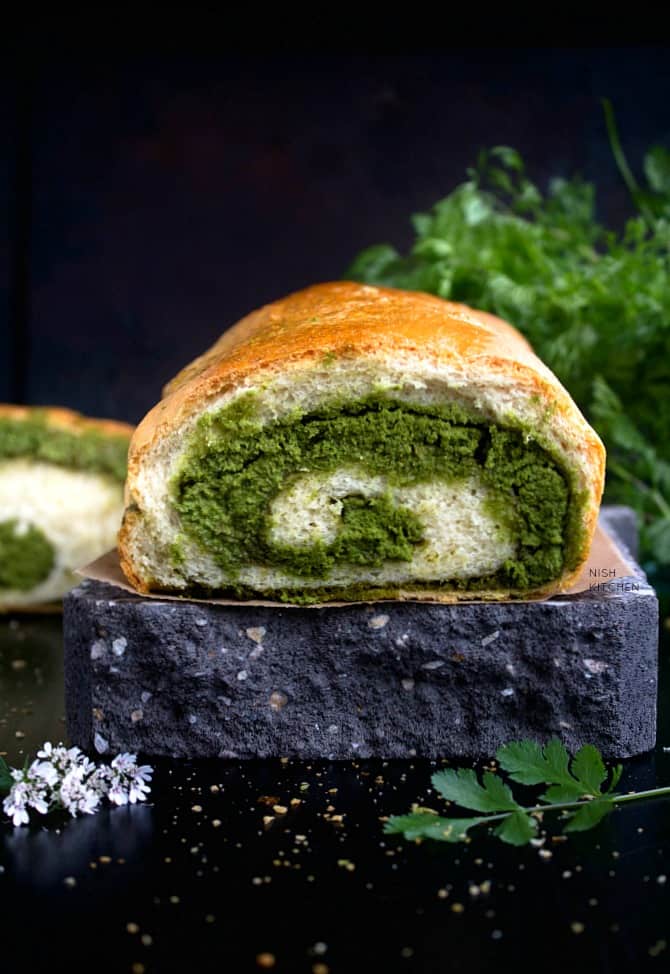 More bread recipes:
Facebook, Pinterest and Instagram. Watch exclusive recipe videos on YouTube.
Like this chutney swirl bread? Then join Nish Kitchen on